These are trying times. The mixture of a global pandemic, an election, and widespread civil unrest has created a drain on the firearms industry. Guns and ammo are hard to come by. As we all know, whenever these drains happen, it's the 5.56 and 9mm that disappears first. Basically, every other caliber follows, including the 22 LR. However, skills decline and get dull without practice, so practice never stops. With that in mind, tools like the CMMG 22 LR AR conversion kit become super handy to have. 
I know 22 LR tends to disappear off the shelf, but I bet most shooters still have a little supply of it hanging around. I have piles of 22 LR, not from hoarding, just from grabbing a box every now and then to go plink with. In a situation where ammo is mostly gone, I'd rather chew through something like 22 LR than 9mm or 5.56. The reason being is that 5.56 and 9mm are more valuable, and I'd prefer to save those for training instead of practice. I define training as being taught under knowledgeable instruction.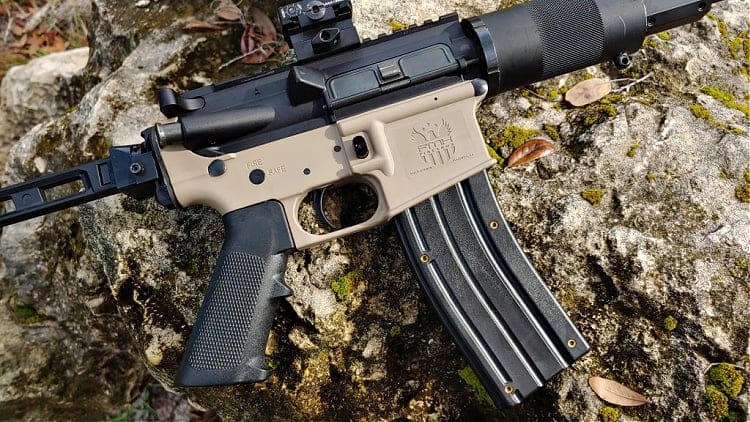 Alternatively, practice is me on my lonesome, practicing what I've been taught in training. For practice, I'd rather eat my 22 LR stores. For this reason, the CMMG 22 LR AR Conversion kit is quite handy to have. 
The CMMG 22 LR AR Conversion – The Big Why 
You may be asking, "Travis, why spend the money on this when I can use a dedicated 22 LR I already have?" 
That's a fair question, and for me, the answer is easy. I can use the CMMG 22 LR AR conversion kit in the rifle I'm using for defensive purposes. This is the rifle I'm likely doing all of my training with. So I can use the stock, light, optics, and everything else with this conversion kit when I hit the range. 
I can make use of my fancy ambi safeties, big ole magazine releases, extended charging handles, and all that fun stuff that makes my AR 15 mine. This keeps muscle memory sharp and keeps me familiar with the way my rifle handles and how it functions and works with my chosen layout and accessories.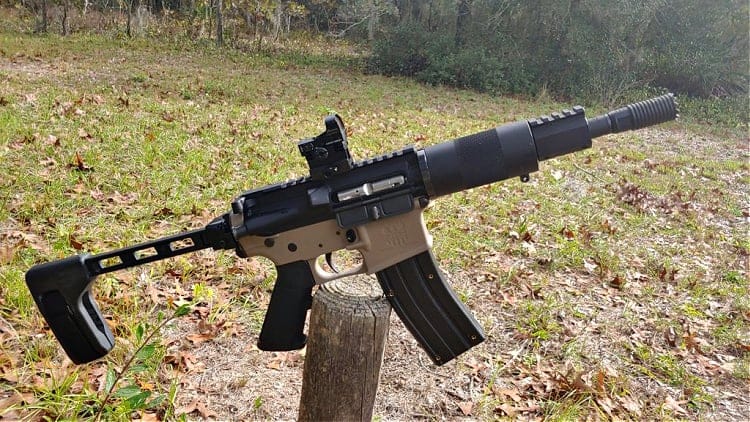 There are a few downsides. Your zero will shift and you'll lose substantial range. You can't make use of your bolt release because while you have a last-round bolt hold-open device, it automatically releases the bolt when the magazine is removed. 
However, in times like these, the kit offers you the ability to practice and keep your skills sharp. That's my serious answer to why this kit is valuable. 
Outside of ammo droughts, you can just make a fun gun. The AR world is so vast that you could use this kit as the heart of a fun rimfire build. I did that with a super cheap lower and some parts I had in a pile with the CMMG conversion kit at its heart. 
Installation 
If you decide to build a fun gun, you can always transfer the CMMG 22 LR AR conversion kit from a fun gun to a serious one. The reason you can do this so easily is that the installation is as easy as tossing in a bolt carrier group and a magazine. 
That's all there is to it. Unload your gun, remove the standard BCG, slide in the CMMG 22 LR AR conversion, and that's it. This bolt carrier group has a built-in buffer. The built-in buffer means you actually don't need a standard AR buffer. You could install a folding stock, or brace, or simply not have either. 
The kit uses a specialized magazine that replicates the look and feel of a standard AR magazine and fits 25 rounds of 22 LR. 10 rounders are also available if your state has restrictions. These magazines fit perfectly in standard AR 15 magazine pouches, and this further allows you to utilize your standard load-bearing gear. 
Performance 
None of the above matters if the CMMG 22 LR AR conversion doesn't work, right? Well, there is one way to find out. I loaded up all three of my 25-round magazines and hit the range with plenty of spare ammunition. 22 LR is cheap and easy to tote, and I brought plenty of it. I zeroed my Burris Fastfire and hit the ground running. 
I tried multiple ammo types. This included Federal Automatch, CCI AR Tactical, and Remington Golden Bullets. The CCI AR tactical predictably ran the best. This specific ammo type is meant for this very purpose, and it shows. The Federal Automatch ran pretty well, and the Golden bullet gave me the most trouble. 
With the CCI and Federal Automatch, I'd get the occasional failure to fire. That's the fun part of rimfire ammo, it tends to be a little less reliable. The Golden bullets gave me the most light strikes, and I'd get one or two per 25 round magazine. I had no cycling issues with the 300 rounds of CCI AR ammo I put through it, and just a few here and there with the 325 Federal Automatch rounds this thing ate. The Golden bullets gave me more than a few, but not enough to be frustrating. 
Accuracy Matters 
Accuracy isn't what I'd call tight with the CMMG 22 LR AR Conversion kit. It's a 22 LR round going through a 223 barrel, so there is going to be little give and take with it. At 50 yards, you can stay inside of a 2-inch circle with the Automatic and the CCI ammo. The Golden bullet opened up accuracy a little bit to close to three inches. 
For a 22 LR in a 5.56 caliber gun, I think the accuracy is most certainly acceptable. It still allows you to train and challenges you to make your hits. Suppose you are looking at a combative style of shooting. You'll be well suited with the CMMG 22 LR AR conversion. If you are more of an NRA High Power type shooter, then this might not be tight enough for you. 
Final Thoughts 
The CMMG 22 LR AR conversion kit is a very fun little tool. The stainless steel design makes it easy to clean. Toss some oil on a rag and wipe the filthy 22 LR carbon off of it. Make sure you punch that bore because it can get quite dirty quite fast when you are handling 22 LR. 
I've made a dedicated AR Pistol in this caliber and will say it's been a very fun gun. In times like these, it's great to have fun while keeping your skills from going dull. This little conversion kit allows me to stay sharp and is fun for all ages.  
Be sure to watch GunMag TV too.  
Travis Pike is a former Marine Machine Gunner, a lifelong firearms enthusiast, and now a regular guy who likes to shoot, write, and find ways to combine the two. He holds an NRA certification as a Basic Pistol Instructor and is the world's Okayest firearm's instructor.




View original Post