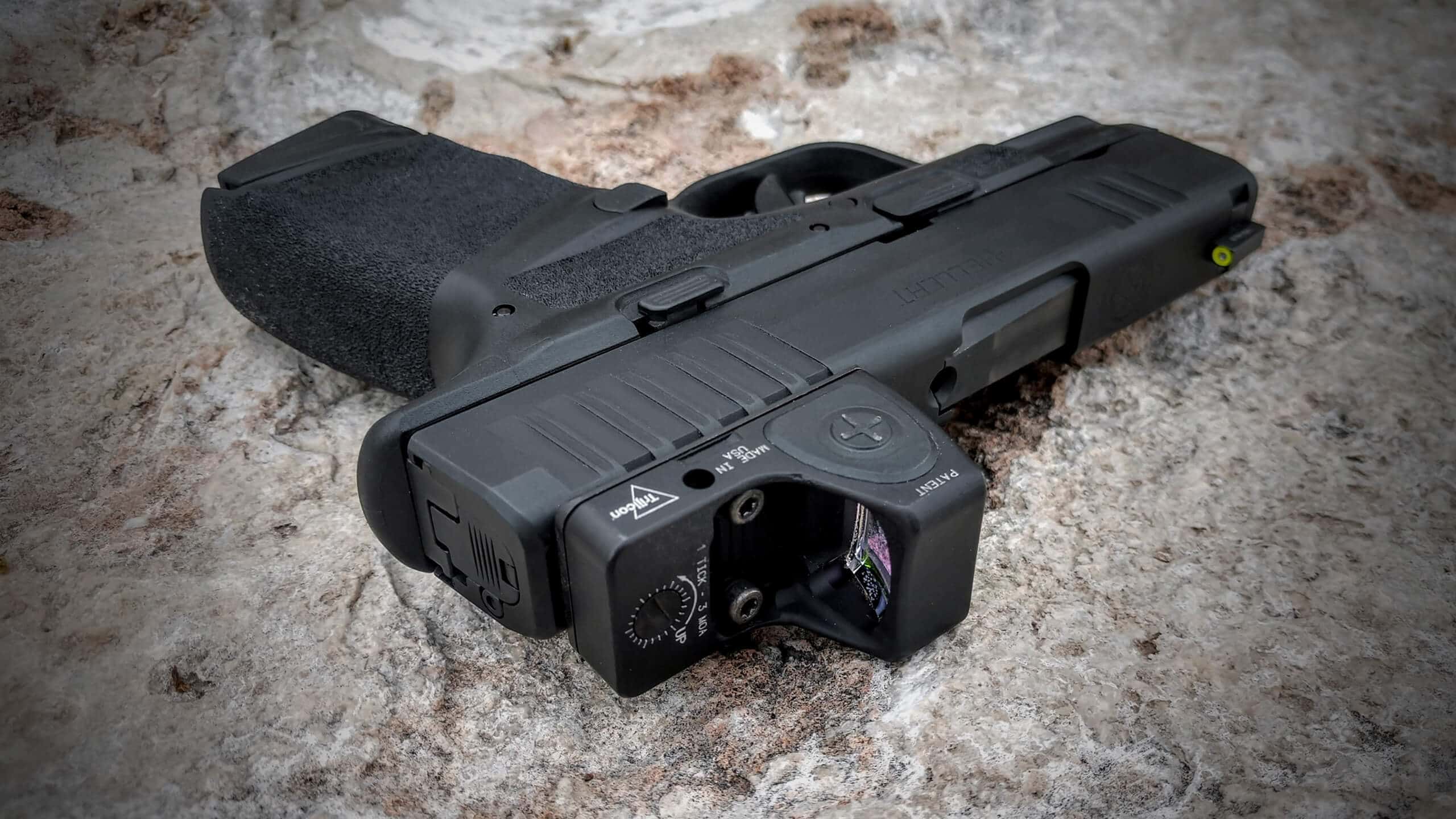 There's a new craze that has been burning up the firearm industry lately, and it's everyone putting micro red dots on handguns. The benefits are innumerable, and it's easy to do thanks to manufacturers like Springfield Armory making optics-ready models like their line of OSP (Optical Sight Pistol) firearms such as the Hellcat OSP.
But what if you have a standard Hellcat pistol without the OSP system for mounting an optic? Sure, you have a great gun with amazing capacity and exceptional "U-Dot" iron sights, but how about still adding an optic? Are there any options out there?
Another Direction
Thankfully, some optics manufacturers themselves are creating adapter plates to fit nearly any firearm, making it truly easier than ever to jump on the bandwagon of micro red dots. One of these is respected optics maker Trijicon, which not only has introduced the RMRcc (Ruggedized Miniature Reflex for Concealed Carry), a downsized version of its respected RMR and one designed to fit on smaller CCW pistols, but also a means to attach it to even non-OSP pistols like the standard Hellcat.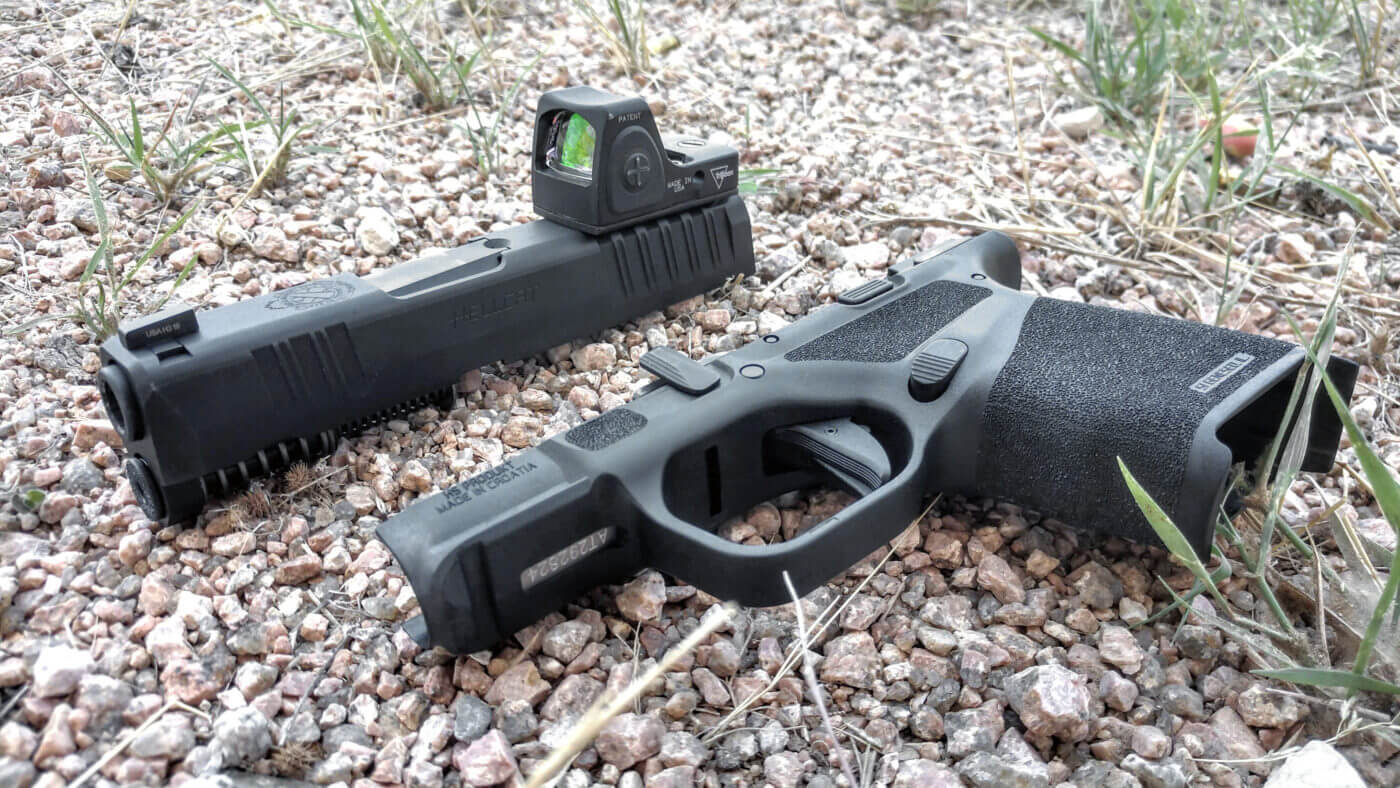 The Trijicon RMRcc can be fitted to either a standard Hellcat (by pushing out the rear dovetail sight and adding an adapter plate) or Hellcat OSP. This is exciting news for all those who immediately bought a Hellcat when they came out and may not have been able to find a Hellcat OSP. Now there is no need to modify your original Hellcat through a gunsmith cutting a mount for an optic to get a red dot like the Trijicon RMRcc on your sidearm.
Tough As Nails
The other tremendous upside to the Trijicon RMRcc as an option for your carry pistol is that it is tough as nails, just like its predecessor in the RMR. An RMR sight is known for its ability to be jacked against a countertop or doorway to rack the pistol, and the new RMRcc is no different. Many of us are utilizing our Hellcats for everyday carry (EDC), and we view our firearms as tools and not safe queens. While none of us will go out of our way to abuse our sidearm, it is comforting knowing that the red dot we might deploy is as durable as the gun it rests on.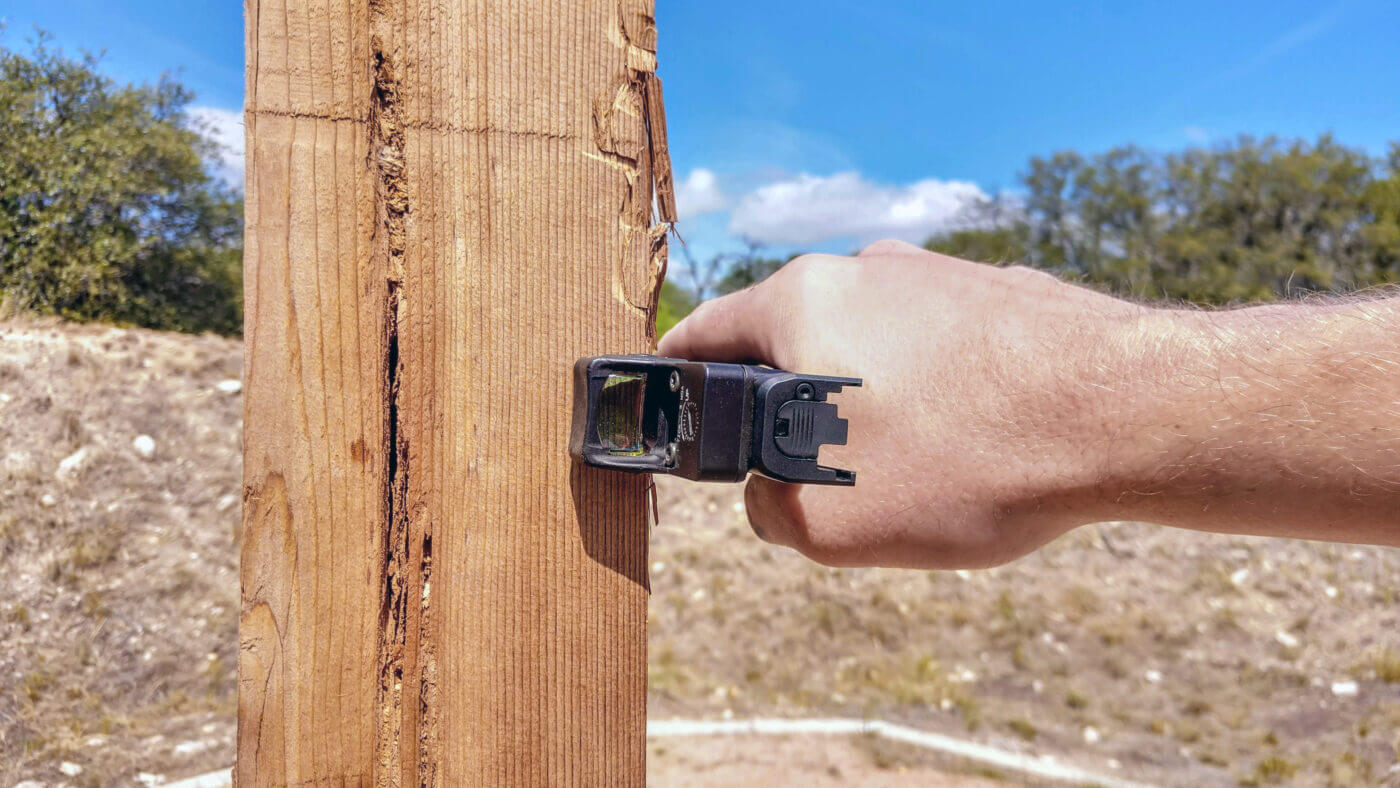 Another benefit to the RMRcc that Hellcat owners will love is battery life. I have owned an RMR on a full-size pistol for more than three years now and the battery is still going strong. I have never replaced the original battery and it still gives me a crisp, confident dot in all lighting conditions. The RMRcc is touted as having an even better battery life than the RMR, so it could last even longer than my RMR has.
Aside from durability, battery life and ease of mounting on even a standard Hellcat, the possibly biggest reason for wanting to put a micro red dot on a Hellcat is for speed of sight acquisition. Given an infinite amount of time with iron sights, all shooters can be as accurate as anyone employing a micro red dot. But once stress, pressure and time constraints are added into the mix (like self-defense), then the micro red dot owner is going to be able to produce a well-placed shot more quickly and accurately.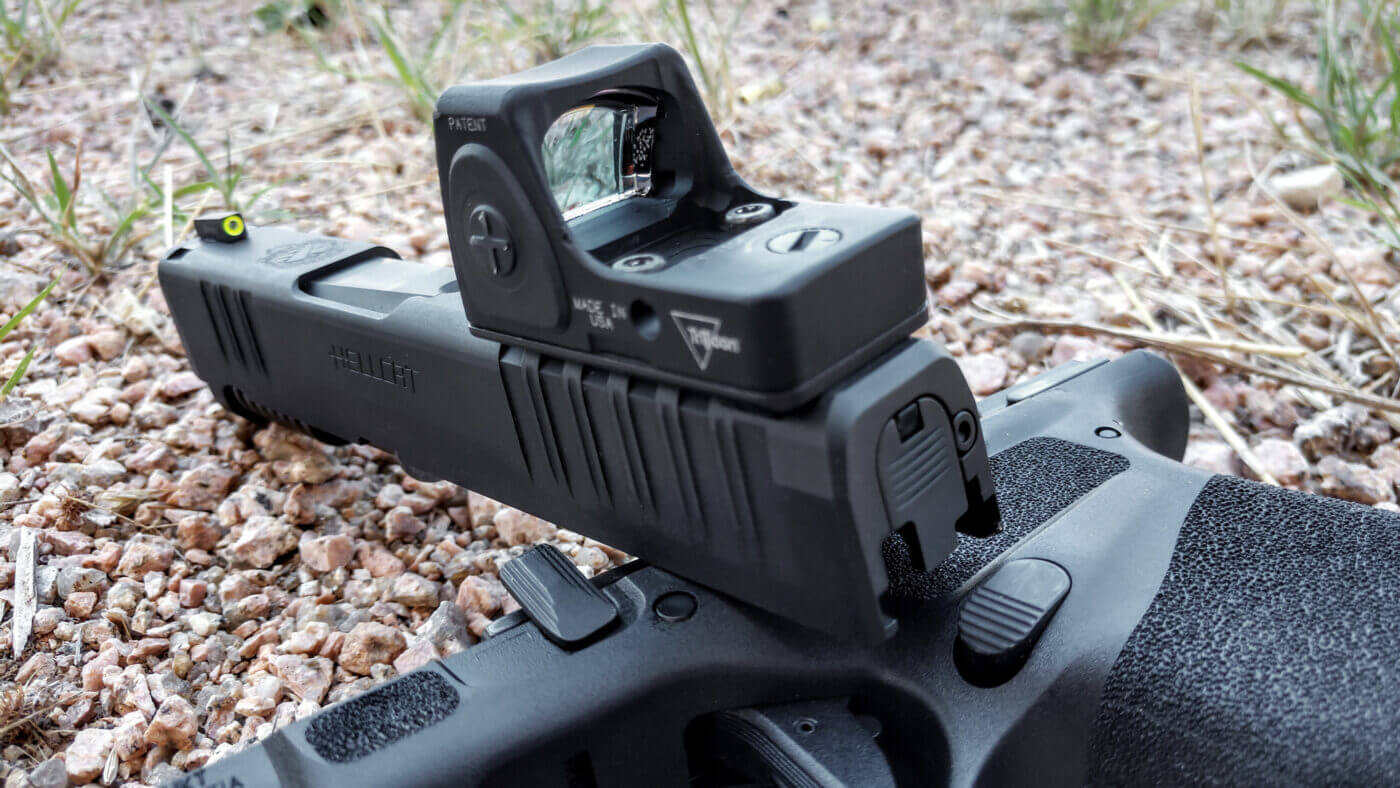 In terms of EDC and protecting your loved ones, that is the name of the game in self-defense: reaction-time/speed and accuracy. We want to send rounds downrange as quickly and effectively as possible, and something like the robust RMRcc helps us do that.
Finally, a red dot like the Trijicon RMRcc could prove to be invaluable on a Hellcat for self-defense because it can be seen in all lighting conditions. Whether it is rainy, overcast, dimly lit, dark or blindingly bright outside, you will be able to see the definitive, crisp dot inside the tempered glass window of the RMRcc. While the Hellcat gives shooters a great set of iron sights direct from the factory, a micro red dot is easier still to see and shoot with in poor lighting situations.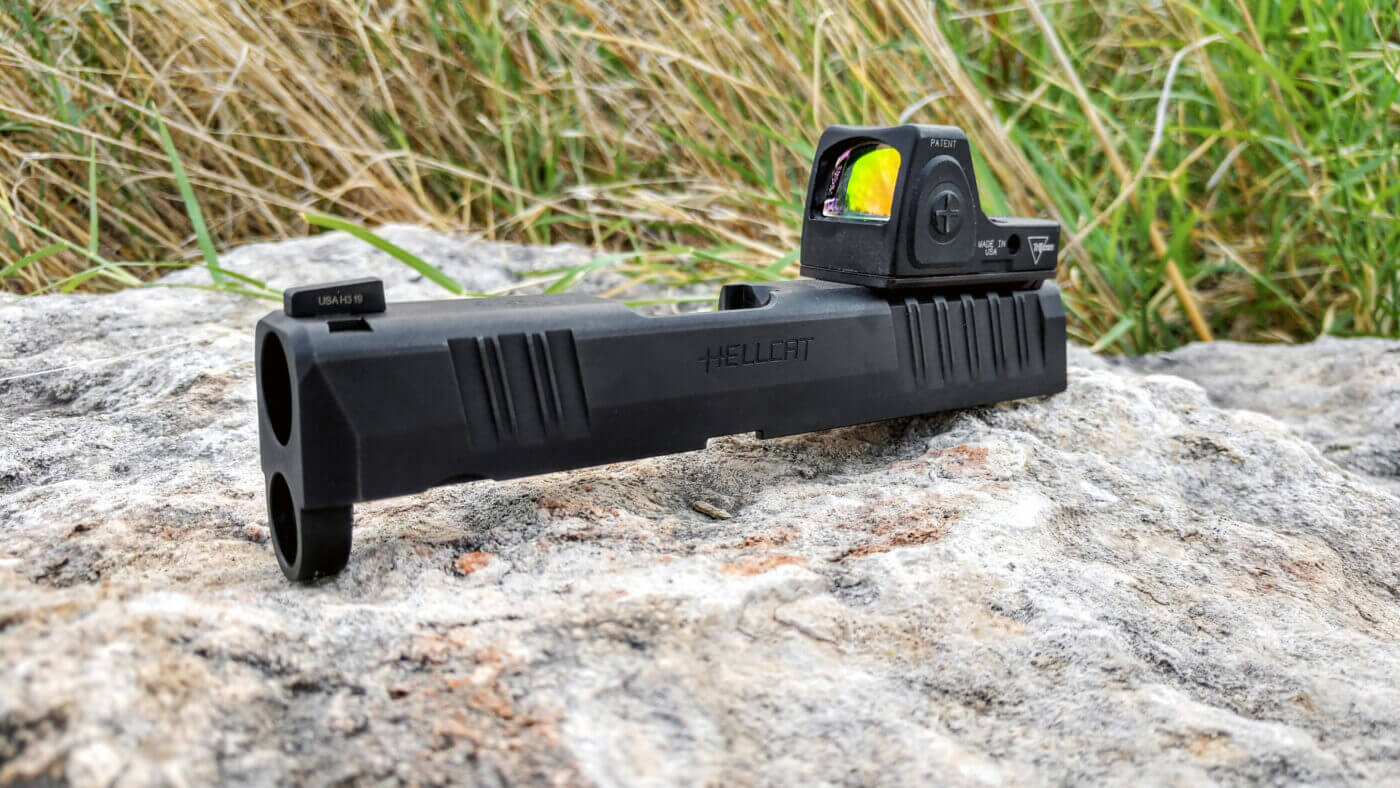 Conclusion
So, while you have already made a terrific choice in owning a Hellcat or Hellcat OSP, a powerful upgrade like the Trijicon RMRcc could be that additional boost of confidence you need. That boost would be improved accuracy, speed, timing in acquiring your sights, and the overall ability to better protect yourself and your loved ones.
Editor's Note: Please be sure to check out The Armory Life Forum, where you can comment about our daily articles, as well as just talk guns and gear. Click the "Go To Forum Thread" link below to jump in and discuss this article and much more!
Join the Discussion
Products in this article


View original Post