What's not to love about higher-capacity magazines—more is better, right? Especially when you're out there on the range having a blasting good time. You can shoot longer between reloads, and heck, they look cool too. If you're looking for a Glock 30 round magazine or better, we've got several high capacity Glock magazines at GunMag Warehouse that are looking for their forever home. Daniel made some videos to show them to you from 33-round OEM mags to 40-round ETS after-market extendos.
Check out the videos below to see which models will work for you. 
OEM Mags
These first two videos are about the Original Equipment Manufacturer (OEM) Glock Gen 4/5 33-round factory 9mm magazines. OEM means that they were made by another company for Glock to meet Glock's quality and standards. Of all the 33-rounders out there, Daniel says this is the most reliable for your handguns or pistol caliber carbines. Combining impact-resistant polymer with tough steel inserts and steel springs, it's an all-around great magazine with the sturdy construction that you expect from Glock. 
This mag fits Glock 9mm pistols from Gen 3 to Gen 5. You can even use it to feed a Glock 26, but it's going to stick out just a little bit (you think?) But hey, this probably isn't something you're going to conceal.  
It has witness ports on the back to tell you how many rounds you still have in the magazine, but be aware that even though it says 31 at the bottom, the +2 extension brings the capacity to 33 rounds.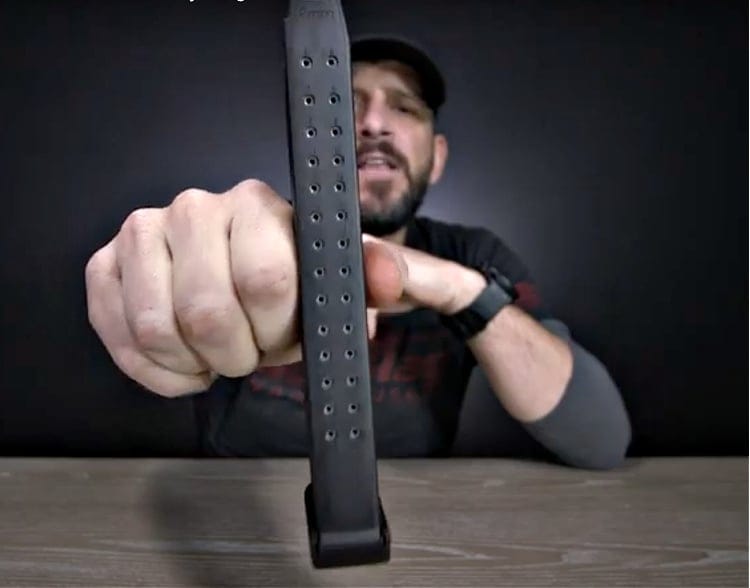 This Glock extended magazine fits all double-stack 9mm models including  17, 18, 19, 26, 34, 19x, and 45 pistols.
These magazines are available in three color options. Take a look at the black one:
If you prefer Olive Drab Green (OD) or Flat Dark Earth (FDE) GunMag's got you covered. Daniel prefers OD, saying, "OD is life to me!" Also, OD and FDE come with a high visibility orange follower to help you gauge how many rounds are left in the mag with a quick glance.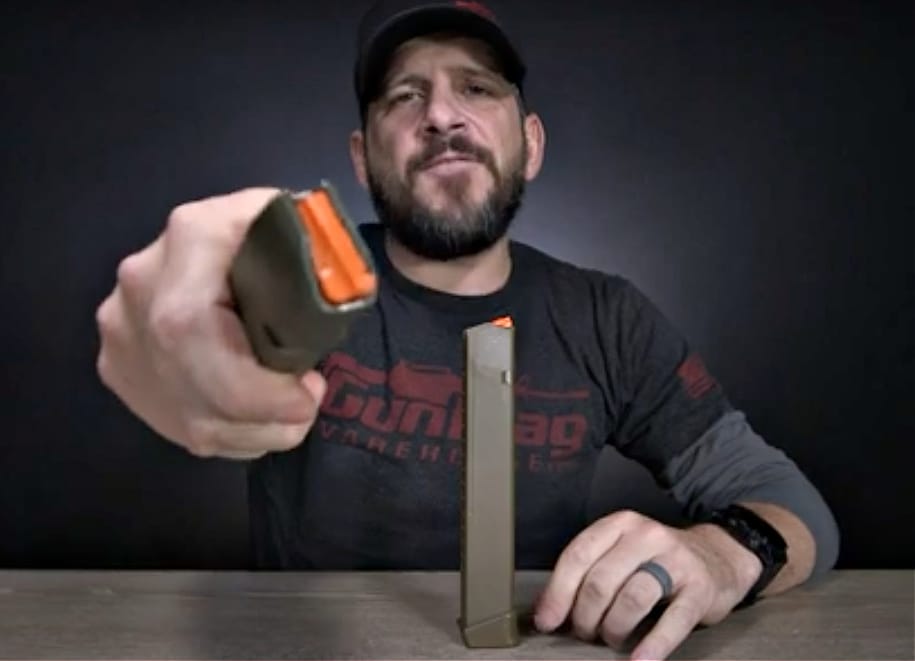 Again, these are 31-round capacity Glock OEM factory magazines with a +2 extension, which takes them to 33 rounds. Check them out in the video below:
They run great and feed the gun the way it's supposed to be fed.  All around great construction, great quality you expect from Glock.  
Glock 9mm magazines are duty-tested and combat-ready—trusted by law enforcement and military professionals from all around the globe. Glock magazines are designed to drop free and provide ultra-reliable performance in any situation …
Glock magazines come with a very strong spring rate from the factory to ensure reliability in the toughest of conditions. Sometimes, magazines are found to be a little bit difficult to load at first. We recommend using a magazine loader to ease the loading process. However, after a few times loading and unloading, the springs break in nicely and it becomes much easier to load. 
After Market Options
GunMag Warehouse also offers several aftermarket high capacity Glock magazines. Generally speaking, aftermarket magazines have a polymer construction, which makes them more affordable than OEM magazines. But that doesn't mean they aren't worthy of consideration. Today's polymers are pretty darn tough, and on the off chance that something does happen to your after-market magazine, these mags come with some incredible warranties.
Elite Tactical Systems 22-Round 9mm Glock Magazines
This magazine fits the Glock 26, 17, 19, and 34, compatible with Gen 1 through Gen 4 Glocks. You can also use it with a Glock 45 but a little bit of the magazine is going to stick out the bottom. Hey, some people are into that!
And, beyond the extra capacity that these mags offer, they're made in the USA, with an amazing warranty. If this magazine gets destroyed somehow, the folks at ETS don't care how it happened. Just send the pieces back to them, and they'll send you a new magazine. You just can't beat it out there in the magazine game.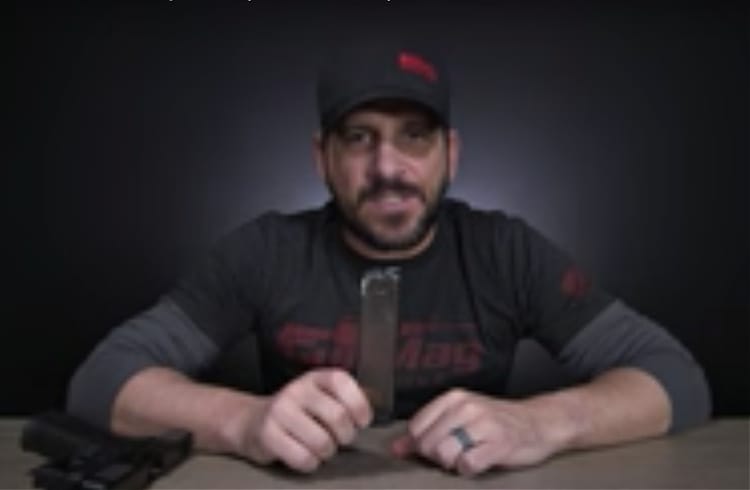 This 22-round 9mm Glock magazines by Elite Tactical Systems is a 22-round capacity magazine for 9mm Glocks.  Drop free as always because it's an Elite Tactical Systems magazine. Works great. All-around great magazine. Can't beat it out there on the range practicing, training, awesome warranty.
Specs
Competition Legal 140mm (141.75mm)
Compatible with Glock and aftermarket floorplates
Easy disassembly with our specially designed baseplate
Ergonomically designed floorplate makes it easy to grab from mag pouches
Works great. All-around great magazine. Can't beat it out there on the range practicing, training. Awesome warranty.
Elite Tactical Systems 18 9mm 31-round Extended Magazine
These magazines fit pretty much all of your 9mm Glocks out there. Made with advanced, ultra-robust polymer, these iconic translucent mags offer you instant at-a-glance ammo checks. We've got them in three color options: clear, blue, and in our exclusive GunMag Red for Glock 17, 18, 19, 34, and 26 pistols in 9mm. Complete with ergonomic baseplates, they're designed for easier handling and lightning-fast reloads. 
Blue, clear, or GunMag Red, these 31-round 9mm Glock magazines Elite Tactical Systems magazines are one of our top sellers at GunMag Warehouse, and for good reason.
They're 31-round capacity! That's a lot of bullets in your gun and a lot of fun to be had. If you destroy this magazine in some way, ETS really doesn't care. They're either going to fix it for you or send you a brand new magazine.
Now, they're going to ask questions. When Daniel asked them about the warranty, they said, "Yeah these magazines don't break often so we're going to figure out what happened. But we're going to take care of it no matter what."
Translucent Blue
This Glock 18 magazine from Elite Tactical Systems, you may notice, is not your normal Glock 18 magazine. It's a 31-round magazine for feeding hungry double-stack 9mm Glocks, and it's blue.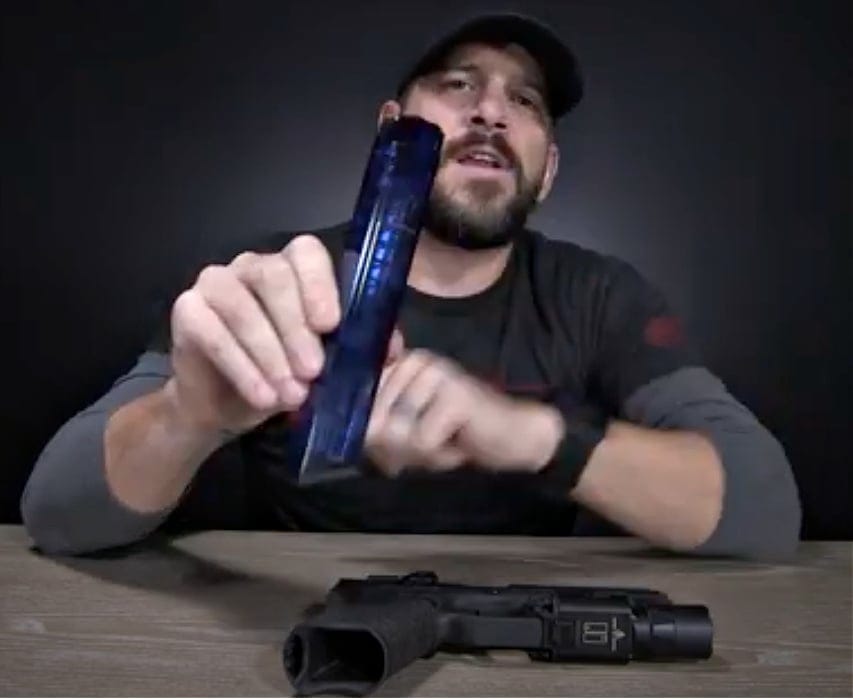 Although this blue magazine may not be for everybody, Daniel personally digs this color, "But it may not be the color for some of the baby bluemers out there." See what he did there?
Plenty of other people will probably dig this color in their gun. It'll look great for Instagram and all that good stuff.
Daniel says he's "…tried a lot of magazines out there, some of them were good some of them were not so great. Some of them just straight up blew, but the ETS does not. They are blue but it does not blow. I've been shooting ETS magazines for quite a while. The Glock 18 kinda blue me away."
They're great magazines with the same great ETS warranty mentioned above. You can feed your double-stack 9mm Glock until you are blue in the face. 
All puns aside, if you break this magazine for whatever reason ETS is going to take care of it for you and you're going to have a great time shooting this thing.
Pick it up, take pictures, put it on Instagram, and tag GunMag Warehouse because it is a blue magazine and we know how much you like those colored magazines. 
Don't Like Blue? How About Clear or Our Exclusive GunMag Red?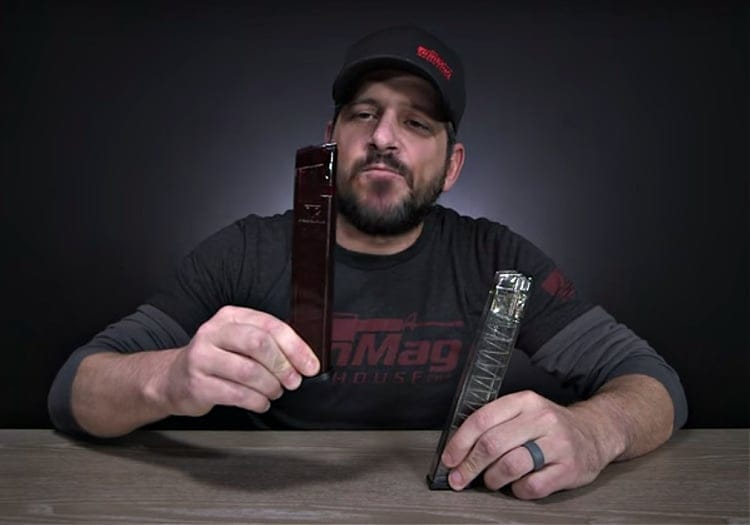 Whichever color you choose, these 31-round mags are made with Elite Tactical Systems' revolutionary advanced polymer. So, they're resistant to cracking & breaking and they have radical new features like an integrated coupling system. ETS Glock magazines are designed to function with ALL generations of double-stack Glock pistols (Gen 1-5), they're made in the USA, and don't forget….they've got an incredible worry-free Lifetime Guarantee.
So double down on your firepower today with a few of these extended Glock magazines from ETS!
KCI Glock 17, 19, 26, 34 9mm 33-Round Polymer Magazine
These 33-round magazines are awesome to have out there in your range bag for training and practicing with your pistol caliber carbine or Glock handgun. Built with the same polymer and steel design as factory Glock magazines, these offer a high-value alternative to expensive OEM Glock magazines. They're perfect for rough use, tactical drills, and any other application that might put aggressive wear on magazines and equipment.  Daniel says these are one of the least expensive ways to have fun out there, and you're going to save a lot of money with them.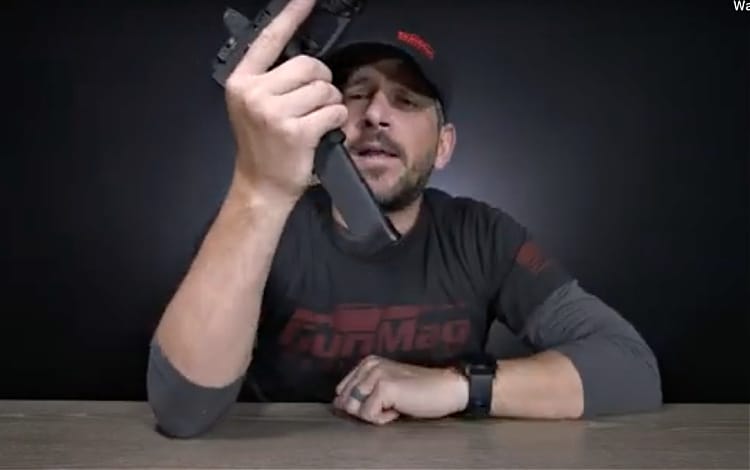 The KCI Glock 17, 19, 26, 34 9mm 33-round polymer magazine is designed for use with the Glock Gen 3 or later, and won't work with your single stacks, obviously. 
Like many new extendos, these might be difficult to load at first, and it's possible they'll need to be loaded and reloaded a few times before accepting full capacity. Consider using a magazine loader to make it easier and faster and remember that they'll get easier to reload after multiple loadings. 
What a great time for a little amount of money. You should go buy 'em all right now at GunMag Warehouse.
Elite Tactical Systems Glock 18 9mm 40-Round Extended Magazine
This transparent 40-rounder is a big magazine. It's going to print just a little bit if you try to carry this thing concealed. Seriously, though, this magazine is for having fun out there plinking on the range. It'll work in your double-stack 9mm's, and would also be a great magazine to run with your Glock magazine-fed pistol caliber carbines.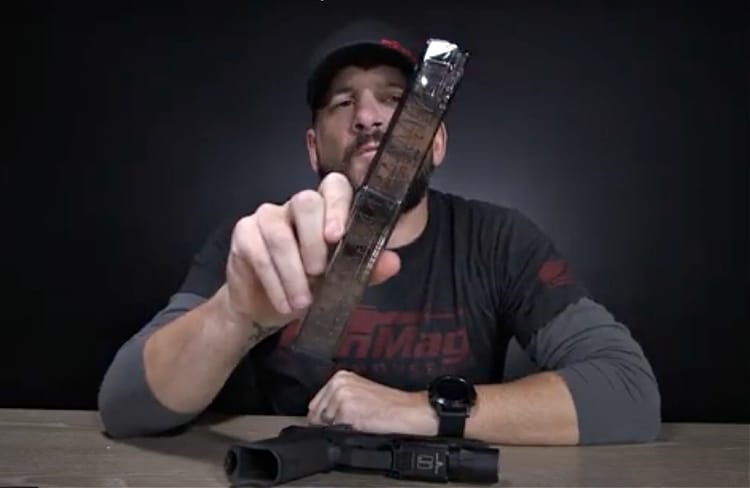 Ammo checks are simple, since the mag is translucent, and the ergonomic baseplates help make for lightning-fast reloads. And, the ETS Glock 18 9mm 40-round extended magazine is constructed with the same advanced polymer as the 31-round ETS magazines above. 
Remember, ETS has one of the best warranties out there in the game. If this thing gets destroyed for whatever reason, they're going to take care of it for you. 
Awesome choice, 40 rounds of 9mm feeding that gun. Good times all day long. Buy… like… ten of them!
Buy your Magazines from GunMag Warehouse!
Be sure to watch GunMag TV too.  
Stephanie Kimmell is the firstborn daughter of Missouri's Pecan King, worthy scion of a Vietnam veteran sailor turned mad engineer-orchardist-inventor-genius. With a BA in technical writing, she freelances as a writer and editor. A Zymurgist greatly interested in the decoction of fermented barley and hops, she is in many ways a modern amalgam of Esther Hobart Morris, Rebecca Boone, and Nellie Bly. She hunts, fishes, butchers, and cooks most anything. When not editing or writing, she makes soaps and salves, spins wool, and occasionally makes cheese from cows she milked herself. Kimmell is a driven epistemophilic who loves live music and all sorts of beer.




View original Post